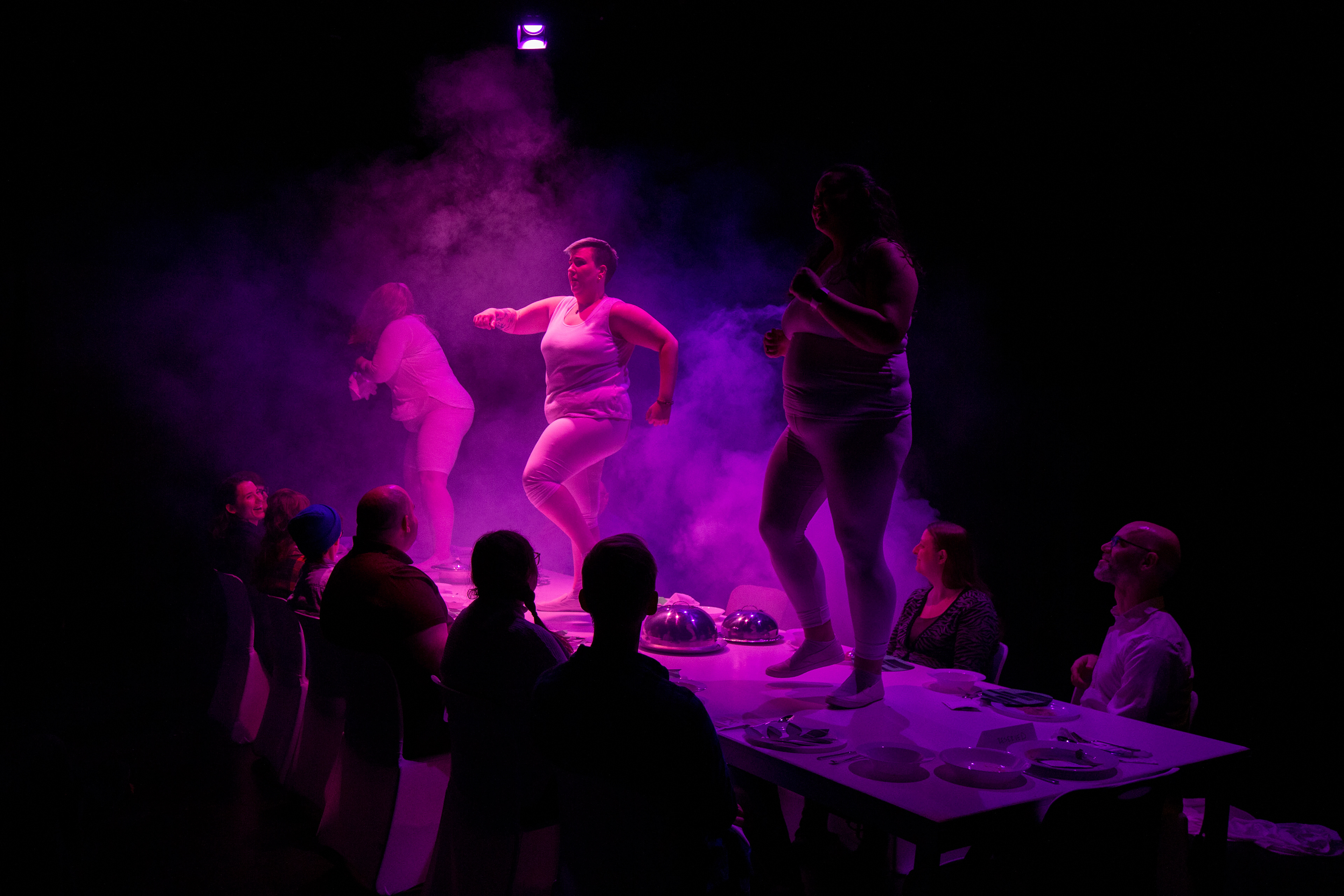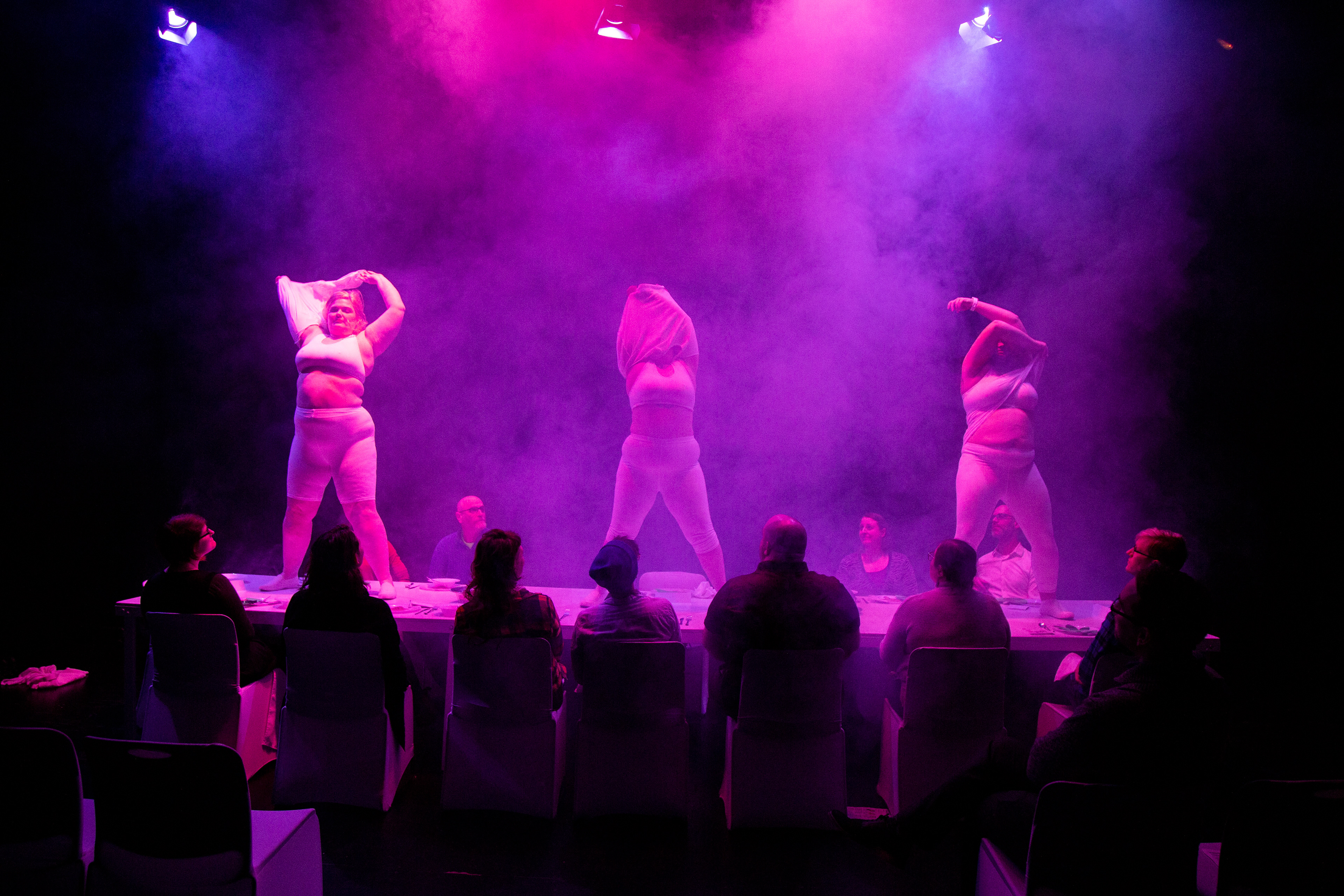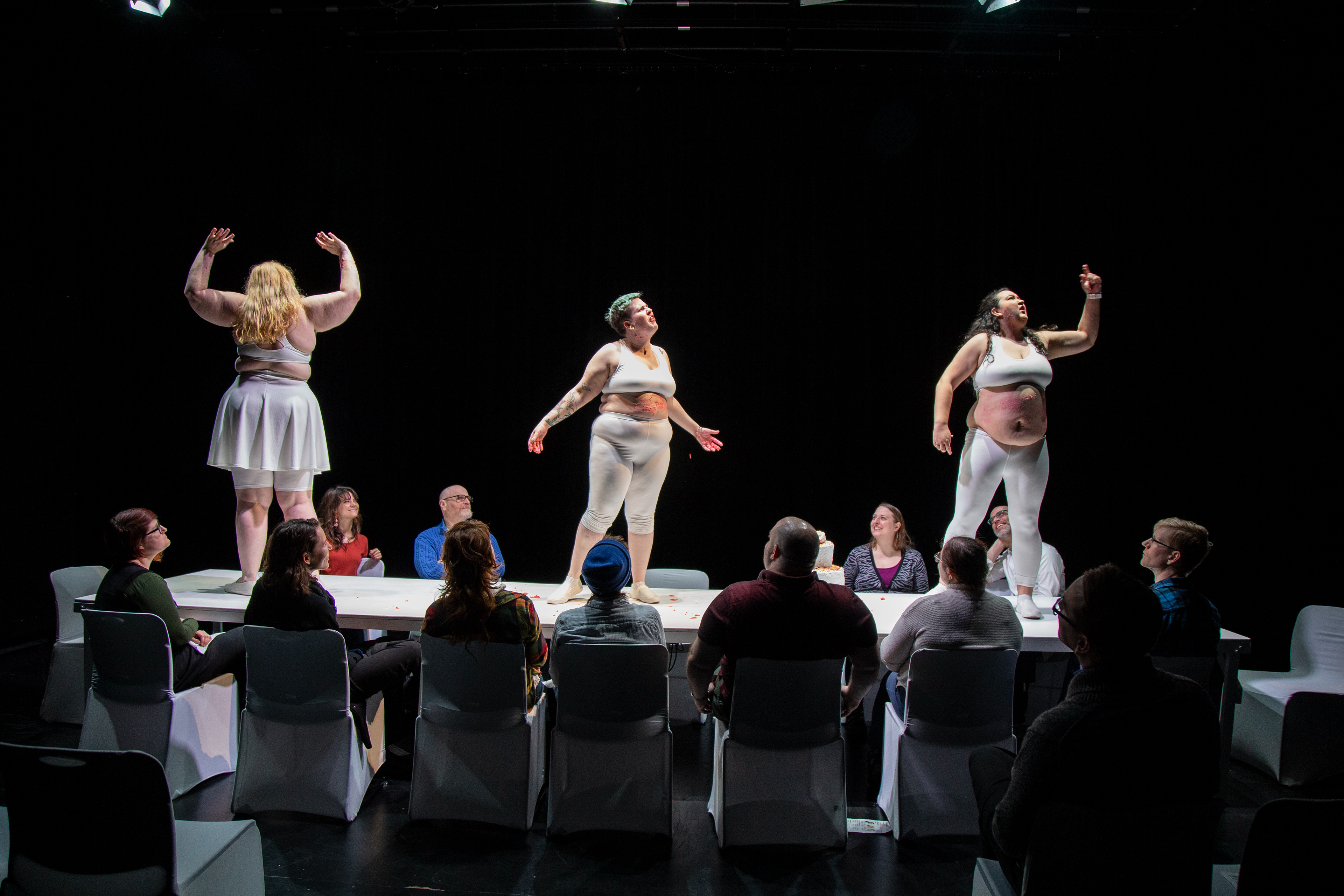 i will eat you alive
Written and directed by Katie Hileman
Featuring Becca Glantz, Betse Lyons, Meghan Taylor
You are cordially invited to a dinner party to celebrate one fat woman's decision to lose weight. Join us for a delicious, five course meal examining diet culture, representation, and what it's really like to be a fat woman+ in today's society. There's singing. There's dancing. There's even cake. Because we all deserve dessert! (In moderation of course!) Remember: nothing tastes as good as skinny feels, right? ....right?
"i will eat you alive" was inspired by and written after a series of interviews conducted between fat playwright, Katie Hileman, and a community of self-identified fat women+.
We are fat. We are here. And we will eat you alive.
A Note From The Playwright/Director
Right now I am the heaviest I've ever been. 
This is a truth that normally comes with a side of massive failure and shame… but, SHOCKINGLY, I'm the happiest and healthiest I've ever been.
I've been in eating disorder recovery now for almost a year (it's sort of amazing that the premiere of this play happens to fall on National Eating Disorders Awareness Week) and I have finally learned that my stories are important for the world to hear. I have learned that I don't need to be on a diet to be considered worthy, and I finally feel comfortable taking up space in the world… a huge privilege, and with that privilege I feel the need to share and uplift other fat people like myself. Because fat people deserve to be uplifted. Their experiences are valid, beautiful, and heartbreaking, and I believe that folks with all bodies can benefit from looking at ourselves through a fat positive lens.
This play started as my desire to simply connect with other fat women+. Last summer, I formed a small discussion group centering around fat issues. Several brave fat women and gender non-conforming people volunteered to join this group, and I listened to them. We commiserated, we laughed, we cried, we learned from each other. The strength of these fat people gave me the strength to write this play. This play is inspired by and for those people, and also for the fat people still trying to put language to their experiences. 
This play is also inspired by the fat positive community on Instagram. My discovery of this community and movement begun by fat WoC online has transformed my perception of myself and others. These women+ deserve credit and attention for the incredibly hard work they're doing for fat activism: @thefatsextherapist, @ashleighchubbybunny, @bodyposipanda, and @yrfatfriend and so many more.
The truth is I'm terrified to share this play with you. This is my first full length play that I've written, and it's intensely personal, and grappling with ideas surrounding body image that are still largely considered controversial and extremely complicated.
However, I do believe this play needs to exist, and I do believe these conversations need to be had. I always knew that this play would exist in some form, but I never thought I'd be the one to write it. I am a fat person, yes, and I am passionate about fat people's rights and representation, but I am still very new on my path to body acceptance, and it's hard. However, it is my hope that someone will see this play and feel seen. In the ways I longed to be seen growing up.
 
And if you don't feel seen and are pissed off about it (as I was), I hope that you too will write a play about your own experiences. I can't wait to see it.


The Interrobang Theatre Company and the Towson University MFA Program in Theatre Arts present...
i will eat you alive


Written & Directed by Katie Hileman
Cast


Fat Woman 1 - Becca Glantz
Fat Woman 2 - Betse Lyons
Fat Woman 3 - Meghan Taylor
Production Staff


Set, Costumes, Props Designer - Katie Hileman
Lighting Designer - Adam Mendelson
Sound Designer - C. Swan-Streepy
Choreography - Caitlin Rife
Vocal Arrangement - Amanda Rife
Stage Manager - Kiirstn Pagan
Production Manager - Tessara Farley
Technical Director - Sam Gallagher
Run Crew - Susan Graham
Interrobang Company Members


Katie Hileman - Artistic Director/Co-Founder
Sean McComas - Managing Director
Kiirstn Pagan - Producer/Co-Founder
David Brasington - Producer/Co-Founder
Brady Whealton - Producer/Co-Founder
Special Thanks


University of Maryland Baltimore County (UMBC), Towson University Department of Theatre Faculty & Staff (Stephen Nunns, Tavia La Follette, Juanita Rockwell, Tom Cascella, Daniel Ettinger, Jay Herzog, Julie Potter, Tony Rosas, Sam Gallagher, Brandon Ingle, Katie Simmons-Barth), Towson University MFA Theatre Arts Cohort 2020, All our

i will eat you alive

test audiences
Fells Point Corner Theatre, Andrew Boone, Jess McGowan, Mark & Susan Pagan, Kristin Hileman, Sean McComas, David Brasington, Brady Whealton, Katie Kopajtic
Becca Glantz (Fat Woman 1)

is an actor in the Baltimore area who recently graduated from Towson University.

i will eat you alive

is her debut with The Interrobang Theatre Company. Previous credits include Natalia

(Electric Baby,

Towson University), Frankie

(Voyager,

Towson University), and Mrs. Gardiner

(Pride and Prejudice,

Towson University.) She will also be in The Green Globe's spring production of

The Comedy of Errors

as Dromio of Syracuse, and working with Towson Alum to launch the

Charm City Theatre Slam

in the summer. (Pronouns: she/her)
Betse Lyons (Fat Woman 2)

is an actor, director, producer, and intimacy choreographer in the Baltimore area. Some previous acting credits include:

See Also

(Submersive Productions),

In the Blood

(Fells Point Corner Theatre),

Detroit '67

(The Strand Theatre),

Love is a Blue Tick Hound

(Rapid Lemon Productions),

Sea Voyage

(Baltimore Shakespeare Factory),

Sally McCoy

(Cohesion Theatre Company),

10x10x10

(Fells Point Corner Theatre),

The Tempest

(Annex Theatre),

The 39 Steps

(Laurel Mill Playhouse, JHU/APL),

The Mousetrap

(JHU/APL),

Twelve Angry Men

(JHU/APL), and

A Lie of the Mind

(University of Pittsburgh Repertory). Betse is so excited to be a part of this important new work! You can find her fat positive account on Instagram @betsebabe. (Pronouns: she/her)
Meghan Taylor (Fat Woman 3) 
is a Baltimore based fat, queer, non-binary, actor/musician/mixed media and makeup artist. Past Interrobang credits include
Bully
 (as Simone) and
Chlamydia
(as fuck boy). Meghan is a company member with Stillpointe Theatre. Other Baltimore area credits include Officer Barrel
(Urinetown,
Stillpointe theatre), Purity Coombs
(Incredibly Dead,
Baltimore Rock Opera Society), Rosencrantz
(Rosencrantz and Guildenstern are Dead,
Stillpointe Theatre, Shelly
(Bat Boy,
Stillpointe Theatre), and select performances as Dolley Madison in
1814! The Rock Opera.
Instagram: @megtayarts (Pronouns: they/she/he)
Production Staff Biographies
Katie Hileman (Playwright/Director) 

is a Baltimore based DIY theatre-maker and dog lover currently pursuing her MFA in Theatre from Towson University, having received her BFA in Acting from UMBC. She is the Artistic Director and a founder of The Interrobang Theatre Company. Katie has worked as a director/actor/playwright/intimacy choreographer locally and regionally with companies including The Acme Corporation, Rapid Lemon Productions, Tres Brujas Productions, Submersive Productions (company member), Venus Theatre Company, Cohesion Theatre Company, Rep Stage, Single Carrot Theatre, and more. Katie is passionate about weird new plays by, about, and for messy, ugly, contemporary women. Katie loves to knit, eat pizza, and change her hair when she feels stressed. Her original work centers around how much she hates theatre, the patriarchy, herself, and being alive. Please hire her. (Pronouns: she/her)
Adam Mendelson (Lighting Designer)

is the Senior Lecturer in Lighting and Sound Design at the University of Maryland Baltimore County where he has been on the faculty since 2012 and helped prepare the new theatre spaces for the opening of the state-of-the-art Performing Arts and Humanities Building. He previously taught at the University of Wyoming, the University of Texas-Arlington, Stephens College (Columbia, MO), and Lawrence Academy (Groton, MA). His design work has been seen across the country and as far afield as Edinburgh, Scotland. Recently, he has lit shows for Rep Stage (Columbia, MD) Lexington Children's Theatre (Lexington, KY), Annapolis Shakespeare Company (Annapolis, MD), and the Towson University Department of Dance. He lives in Catonsville, MD with his wife, Catherine, and their menagerie, Lailah, Kona and Delia. (Pronouns: he/him)
C. Swan-Streepy (Sound Designer)

is both honored and devastated to be making their Interrobang Theatre Company debut and their final theatrical expedition in Baltimore (for now!) with

i will eat you alive

. Previous Baltimore-based technical and design credits include

See Also…

(Submersive Productions),

TornKid

(BAPAC/Cohesion), and

Young Playwrights' Festival 2019

(Baltimore Center Stage). They'd love to stay and chat about their artistic process, but they've watched the play one too many times in a row and have to run off to Panera for a broccoli cheddar bread bowl. (Pronouns: they/them)
Caitlin Rife (Choreography)

is a Baltimore performer and choreographer who has worked with local theater companies including The Interrobang Theatre Company, Stillpointe Theatre, and the Baltimore Rock Opera Society. Upcoming, she will be dancing and singing in

Bella Donna, Songs from Stevie Nicks's 1981 Tour

. When she is not dancing or baking bread, she is also pursuing her Masters in Social Work, where she hopes to address disparities in access to education and healthcare. (Pronouns: she/her)
Amanda Rife (Vocal Arrangement)

is a graduate of the theatre program of Towson University. She has been performing, directing, and choreographing throughout the Baltimore area for over a decade. Recent credits include Ruth

(Pirates of Penzance)

, Veronica Sawyer

(Heathers)

, and she has also broken into the burlesque world under the nom de plume Bebe Doblevei. (Pronouns: she/her)
Kiirstn Pagan (Stage Manager)

is a photographer, graphic designer, and theatre producer based in Baltimore, Maryland with extensive experience in marketing strategy. She is a co-founder of The Interrobang Theatre Company and has overseen all Interrobang brand identity development and marketing campaigns since its launch in 2013. She has previously worked on the in house marketing teams at Baltimore Center Stage and Everyman Theatre. Kiirstn earned her BA in Theatre from the University of Maryland, Baltimore County. Learn more about Kiirstn and her work at www.kiirstnpagan.com. (Pronouns: she/her)