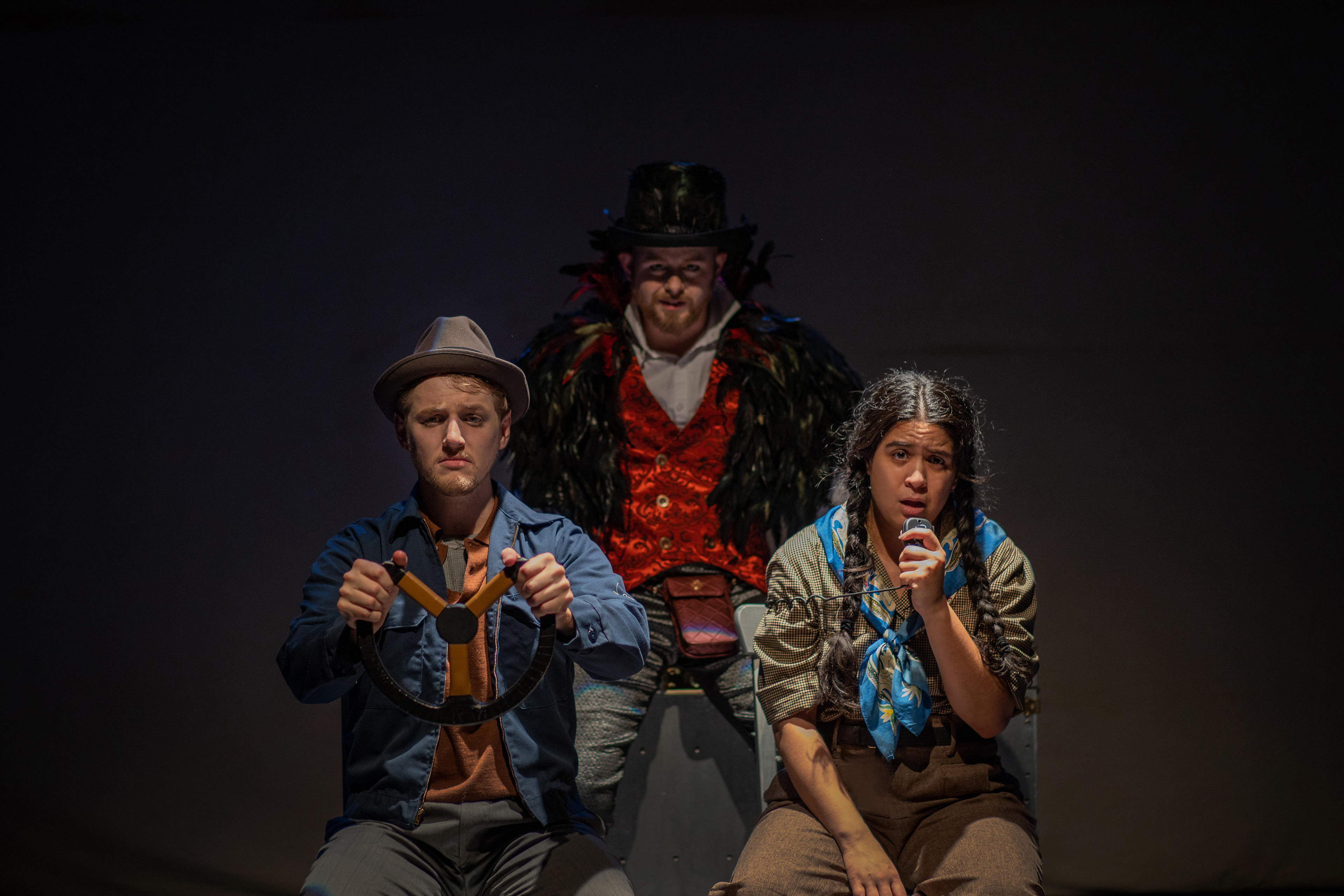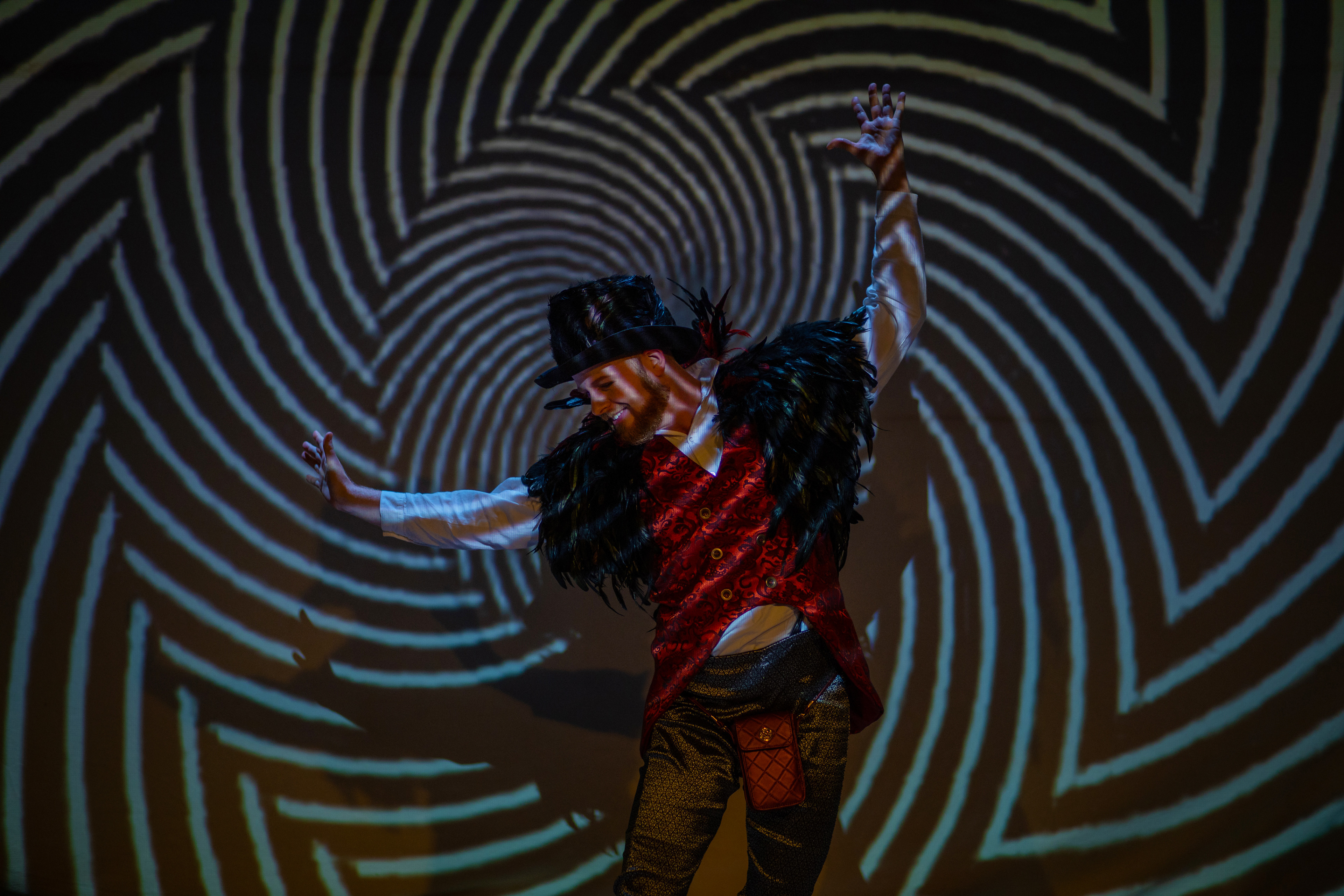 Here We Are (World Premiere)
By Jen Diamond, Directed by Sean McComas
Featuring David Brasington, Mani Yangilmau, and Griffin DeLisle
Amelia was the first female pilot to fly around the world. Now, she's dead. When she wakes up in the Underworld, she is forced by Death himself to confront the worst things about her time on Earth in order to forget them once and for all.
"Jen Diamond has crafted perhaps one of the best original scripts I have reviewed in Baltimore to date... [Sean] McComas led the production to the soaring success that it is. 

Here We Are

is a rare theatrical triumph that succeeds on almost every level. A stellar cast and production team with a script that succeeds at making an epic story immensely personal, while also managing to make a personal story adventurous and epic, this is not a show to miss." —BITR Sisters
"The actors do incredible work, the production design elements are marvelous, yet for us, the star of this show is the script. Jen Diamond's work on this piece is absolutely poetic. The play is abstract – sort of – but nowhere does Diamond's language fly out of orbit. It just soars, full of lyrical cadence and poignant imagery." —MD Theatre Guide
—
Here We Are
is sponsored in part by Free Fall Baltimore. Free Fall Baltimore is presented by BGE, and is a program of the Baltimore Office of Promotion & The Arts, an independent 501(c)3 non-profit organization.
A Note From The Playwright, Jen Diamond
I want to tell you why I like weird stories. And one weird story in particular.
I always loved myths, urban legends, old wives' tales, fairy tales, ghost stories, lore, strange stories passed down from great-great-grandparents – you get the picture. Myths ask the listener or reader to question what they think to be true. They mean strange things might be possible and the world as we know it might be completely wrong. I like peering into the questions these stories ask – dark and empty, like open mouths – and feeling like if I examine hard enough, some definitive answer will appear, hulking and animal. This fascination is why I began to write stories and later plays myself – it was a way to explore stories more deeply and ultimately create my own myths.
But in a lot of myths, especially the ones that feature women, the endings are kind of a let down. The women are usually playing the role of damsel in distress, the witch, or the unfortunate babysitter who gets slaughtered by the intruder. The endings are soaked with blood if the male protagonist doesn't swoop in to save the day.
Perhaps this disappointment is why my favorite myth to hear and to tell – the one I've been turning over and over since I was six or seven-years-old – isn't a myth at all. It's the story of Amelia Earhart: a real person, a real pilot, who really disappeared.
While we know so much about her life through the press and her own writing, for decades we could not confirm what happened after she and her navigator Fred Noonan disappeared somewhere in the Pacific Ocean as they attempted to fly around the world. Nearly every other myth gives us a definitive ending (the man saves the woman, the witch eats the children, the intruder stabs the babysitter, blah blah blah) but the story of Amelia ends with a yawning question mark. And it kind of makes sense. Amelia defied expectations of her as a woman throughout her whole life – of course that tradition should continue past her death.
Honestly, I don't really want to know the definitive answer to Amelia's mysterious disappearance. If I knew the answers, there would be no more question. And if there is no more question, it probably means that Amelia faced the same fate as so many other women in mythology: tragedy.
But here's the part where I tell you that, yes, this play is about Amelia Earhart, but also it is not about her at all. There are some facts in there, but mostly my own imaginings. It's my love letter to her, but also my attempt to shine a light into the made up ideals surrounding womanhood and femininity that all women confront or embrace at some point. It is about living in a world in which men set the boundaries, and the moments in which you realize that those boundaries are a myth.
Thanks for watching,
Jen


Merciless Life
laughs in the burning sun
and only Death,
slow-circling down,
shadows the aerid flesh
bruised by the panther-paws of love.
 Amelia Earhart, poem, ca. 1920s, folder W-8 (Writings Series), Putnam Collection.
Courage is the price that Life exacts for granting peace.
The soul that knows it not knows no release
From little things:
Knows not the livid loneliness of fear,
Nor mountain heights where bitter joy can hear
The sound of wings.
How can life grant us boon of living, compensate
For dull gray ugliness and pregnant hate
Unless we dare
The soul's dominion? Each time we make a choice, we pay
With courage to behold the resistless day,
And count it fair.
The Interrobang Theatre Company Presents...




Here We Are


By Jen Diamond
Directed by Sean McComas
Cast


Amelia - Mani Yangilmau
Death - David Brasington
Person Doll - Griffin DeLisle
Production Staff


Stage Manager - Chuck Green
Set Designer - Jess Rassp
Lighting and Projections Designer - Steven Burrall
Sound Designer - Justin Lawson Isett
Costume Designer - Kitt Crescenzo
Dance/Fight/Intimacy Choreographer - Chelsea Pace
Interrobang Company Members


Katie Hileman - Artistic Director/Co-Founder
Sean McComas - Managing Director
Kiirstn Pagan - Producer/Co-Founder
David Brasington - Producer/Co-Founder
Brady Whealton - Producer/Co-Founder
Special Thanks


University of Maryland Baltimore County (UMBC), Towson University, Eggspectations, Jailbreak Brewing Company, Adam Mendelson, Gregg Schraven, Alex Shade, Carol Delisle, Patrick Lannon, Heather Johnston, Sean Latta, Tim McComas
David Brasington (Death)

has spent the last several years as an artist in the Baltimore theatre community. He has worked with various groups and on projects around the city. When he is not working with Interrobang, can be found bringing audiences into immersive experiences with Submersive Productions. A Maryland local, David spends his daylight hours as a project and event coordinator for Towson University where he also coordinates The TU Professional Leadership Program for Women. (Pronouns: he/him)
Griffin DeLisle (Person Doll)

is an actor in Baltimore.

Here We Are

is Griffin's first production with Interrobang Theatre. Previous credits include Prince Edward (

Bootleg Richard III

, Taffety Punk), Frank (

Merrily We Roll Along

, Towson University), Chief Clerk & Bug (

Metamorphosis

, Towson University). Alongside acting, Griffin is a director and producer, currently working with fellow Towson graduates to launch the "Charm City Theatre Slam" next spring. Having finished his BFA in acting from Towson University this past May, he is excited to be more actively joining the Baltimore theatre community. (Pronouns: he/him)
Mani Yangilmau (Amelia)

is a freelance performing artist, deviser, and writer. Favorite past credits include La Llorona (

La Llorona

, Cohesion Theatre), Michael (

Yappie: A Musical Comedy

with Donna Ibale and Roger Wu), Analise (

A Real Bitch

, Maryland Ensemble Theatre), Shen Te/Shui Ta (

Good Person of Szechuan

with Stephen Nunns), and Whore/Priest (Antonin Artaud's

Spurt of Blood

with Zach Trevino). Mani is grateful for this opportunity to play the "Beyoncé of Her Time" Amelia Earhart with Interrobang Theatre, both of which are dope. Want to show support, get info on Mani's previous credits, and/or represent them artistically? Get in touch with Mani at maniyangilmau@gmail.com or find them at @preyingman_izz on Instagram. (Pronouns: they/them)
Production Staff Biographies
Jen Diamond (Playwright)

is a Brooklyn-by-way-of-Baltimore-based playwright and comedian. Her plays include

Here We Are

(Johns Hopkins University Theatre, Kennedy Center Page-to-Stage Festival, Interrobang Theatre),

PORN: a Love Story

(Cohesion Theatre, Inkubator New Works Development Laboratory), and

The Alibi Play

(Baltimore Theatre Project, Maryland State Arts Council Creativity Grant recipient). Jen was a 2016/2017 Cohesion Theatre Company Playwrights Fellow and a 2019 finalist for the City Theatre National Award for Short Playwriting. She holds a BA in Writing and Theatre from Johns Hopkins University. When she's not writing plays, Jen makes up one-half of the indie comedy duo OLGA (www.olgacomedy.com). Thank you to Peg for believing in this play. (Pronouns: she/her)
Sean McComas (Director)
 is a theatre artist who has worked in many different capacities at theatres all over the DMV including Olney Theatre Center, REP Stage, Everyman Theatre, and the John F. Kennedy Center for the Performing Arts. Returning to Baltimore after some time, Sean is dedicated to deepening his connection with the Interrobang Theatre Company and the city itself. Sean looks to create and develop new work that is in and of Baltimore. (Pronouns: he/him)
Chuck Green (Stage Manager)
is excited to work with The Interrobang Theatre Company again after stage managing
Heavy Hors D'oeuvres 3: Interrobang's Holiday Dinner
back in December 2017. Chuck has previously worked with Cohesion Theatre Company and the Baltimore Rock Opera Society. He prides himself in doing "whatever it takes" to get a show up and running. (And Interrobang loves him for that.) (Pronouns: he/him)
Jess Rassp (Set Designer)

is thrilled to join the Interrobang team! Jess is a freelance artist whose work in performance, puppetry, and scenery can be seen all around Baltimore City. Some credits include: Submersive Productions (

MASS/RABBLE, BATS!, H.T. Darling's Incredible Musaeum

), Cohesion Theatre Company (

Tornkid, Frankenstein, La Llorona / The Orphan Sea

), Single Carrot Theatre (

Savage/Love, Midlife, Year of the Rooster

), Chesapeake Shakespeare Company (

Dracula, Alice in Wonderland, The Winter's Tale

). Jess is also Artistic Director of Cohesion Theatre Company. Check out her website at jessrasspdesign.com! (Pronouns: she/her)
Steven Burrall (Lighting and Projections Designer)
 is a recent graduate from the Towson University Theatre Arts program. He graduated with a Bachelors of Science in Theatre Arts. Steven works primarily in the Baltimore/Towson/DC area in theatre and Dance. This is Steven's first show with the Interrobang Theatre Company. Steven is excited to be working with this cast and crew and is looking forward to what the future entails. (Pronouns: he/him)
Justin Lawson Isett (Sound Designer)
is a filmmaker, playwright, sound designer, marketing manager, and all around theatrical swiss army knife living and working in Baltimore. Justin is excited to work with The Interrobang Theatre Company again after developing his short play 
Letters,
 for
Heavy Hors D'oeuvres 2
back in April 2016. He currently serves on the Fells Point Corner Theatre Board of Directors as a Member at Large and helps oversee marketing efforts for the theatre. He is often very tired. (Pronouns: he/him)
Kitt Crescenzo (Costume Designer) 
(Pronouns: she/her)
Chelsea Pace (Dance/Fight/Intimacy Choreographer) (SDC)
is an intimacy choreographer, fight choreographer, and movement specialist. She is an Assistant Professor at the University of Maryland, Baltimore County and she choreographs and consults on best practices for staging intimacy for professional and educational theatre and film across the country. Chelsea is Co-Founder and Head Faculty of Theatrical Intimacy Education and President of the Association of Theatre Movement Educators. Her book on theatrical intimacy,
Staging Sex
, is forthcoming from Routledge Publishing in January 2020. Learn more about Chelsea and her work at www.chelseapace.com & www.theatricalintimacyed.com. (Pronouns: she/her)